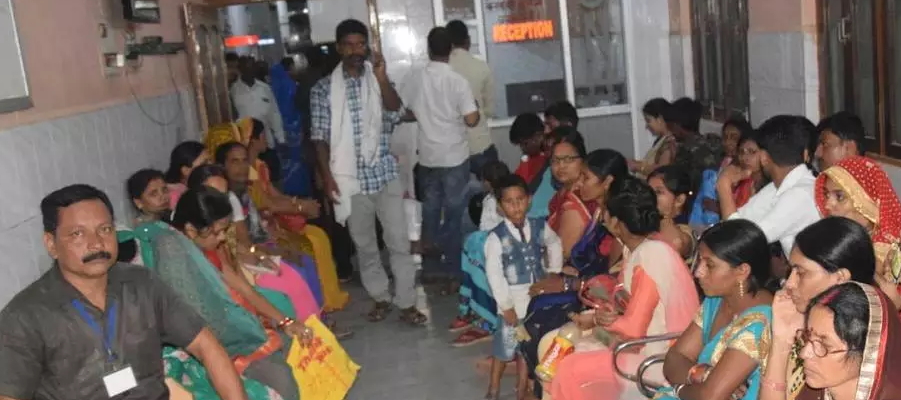 Best Obstetrician in Deoria
Dr. A. K. Rai is is an Obstetrician and Gynecologist Surgeon in Deoria, India, with over a decade of experience in the subject. He is extensively trained in High Risk Obstetrics and has dealt with thousands of challenging obstetric cases with confidence and had successful outcomes.
Best Hospital facilities in Deoria
NICU
ICU
DIALYSIS
PATHOLOGY
DIGITAL X RAY
ECG
ULTRASOUND
PHARMACY
Ambulance (24X7)
Hospital provides a network of Ambulances in the city.
In case of an ambulance requirement, any city resident may dial 8874208440 for accessing an Ambulance within the shortest possible time.
The Ambulances are located in strategic locations.
Best Gynaecologist in Deoria
Obstetrics and Gynaecology, Menstruation Problem, Missed period treatment, Fertility, Heavy period problem, Urination problems in pregnancy, delay period causes, Menopause, Polycystic ovary syndrome, Ovarian cysts, Fibroids, Sexual dysfunction, Endometriosis, 24 Hours emergency care relating to gynecology.
My pregnancy was a complicated one and in a very crucial stage but Dr. Ashok Rai and his team not only gave me and my baby "life" but also helped to scale through the small and large problems after delivery. He is a great human being as well as an ultimate surgeon. I have also got personally got treated for skin. The doctors are helpful and good in nature. The nursing staff is quite cordial, professional and experienced. Rooms are neat and clean. Hospital premises is well maintained and managed by efficient staff.
Excellent hospital. Excellent treatment. Best Gynecologist Dr Ashok Kumar Rai in UP available. For ladies treatment, this hospital is best. For Skin Treatment also Best Doctor and beat facility available. Best Hospital in Eastern UP . Deoria is proud for this hospital and facility.
Best hospital in deoria including gorakhpur. All staffs are well disciplined. Hospital is very clean and in a good environment with beat facilities
Plethora of medical services are offered under one roof that too at very affordable prices. Some of the best doctors like Dr. Ashok Rai provide great treatment along with his many long years of experience in gynecology and obstetrics. Staff working are highly professional and handle patients with full of compassion and kindness.
मैं डॉक्टर ए के राय सर और उनके स्टाफ का हृदय दिल से शुक्रिया करना चाहती हूं मेरे मरीज को ज्यादा बीपी और झटके के कारण गोरखपुर ले जाने को कहा गया था और कहा गया था कि वक्त बहुत कम है ऐसे में हमारे दोस्त ने बताया कि हमारे जिला में देवरिया में सावित्री हॉस्पिटल चले जाओ वहां के इलाज से मेरे बहन अब पूरी तरह से ठीक हो चुकी है धन्यवाद सर आपने उसकी जिंदगी और बच्चे की जिंदगी को सही समय पर बचा लिया.....